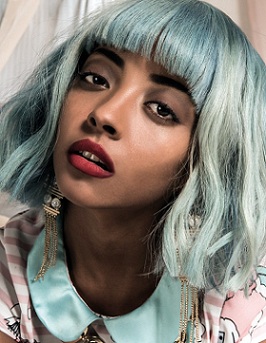 Claiming to be "16", Michelene has been modeling for over 16 years 🙂 She has always loved fashion and the chance to "dolls' up and come alive in front of camera. She claims modeling to be the best and most intense adrenaline rush possible. Couple this with the opportunity it presents to travel across the globe and yet another thrill beyond measure arises.
Modeling has allowed Michelene to meet a lot of interesting people within the industry and in general life. It is a profession which allows her to make income and network as well. She has been fortunate enough to work with truly amazing people and considers herself blessed and proud of every experience for which she takes nothing for granted.  Her list of role models include the SUPERS like Liya kebede , Tyra Banks, Joan Smalls and Jourdan Dunn, all of  whom  have opened a lot of doors for colored models in the industry.
In terms of items she is willing to share about herself she notes the following about herself. Despite her confidence as a model and the fact that she did Ballet for 16 years, she considers herself very awkward and clumsy. She is also very proud of her Cantonese heritage and shamefully admits to the ability to sleep with her eyes open.  Hmm!
Featured Work
Portfolio Excerpts
Shoots with Rankin for the Harrods Fashion Lab Campaign and Magazine,
Aqua by Aqua now AQ/AQ Campaign.
PPQ for Sleek Makeup Campaign.
Appeared in Garzia Magazine and Volt Magazine
Worked with designers such as Moncler Gamme Rouge, Issey Miyake , Mark Fast ,Ktz, Antipodium, Mario Schwab, Felipe and Oliveira Baptista
For more on Michelene and other great Talent do visit our Plenty Talent Face book page.