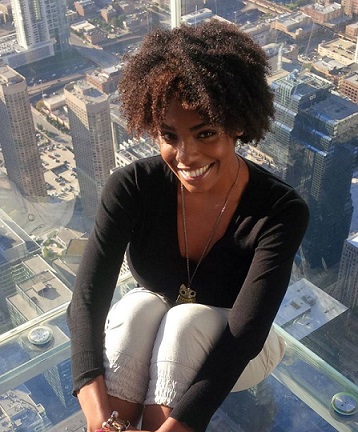 Alicia Sanchez is known to many as FAVALA. Born in the Dominican Republic, she began selling her craft in college in 2003 and entered the professional spectrum in 2005 in the chosen field of design. She is a fan of many fashion designers because of their aesthetics, but admits to being more closely influenced by strong women embracing their race, colour and personal style. In her own words "Everyone is an artist and I like to learn through what they see and how they express."
It was being raised in a house of arts with music and theatre that resulted in her participation in dance and theatre in high school. However it was her mother who taught her to sew at a young age, leading to her passion in design.
Alicia Sanchez currently hits the fashion scene with her line Favala Designs. Her line is fresh and hip with many inspirations taken from all spectrums of fashion- from funk to street to Caribbean flavours. Favala Designs focuses on one's own personal style without breaking the bank. Favala Designs has been featured in various international fashion weeks including but not Limited to Dominican Republic Fashion Week , NYC Fashion Week , DC Fashion Week , Trinidad & Tobago Fashion Week and sold through sectors of privatized wholesale and retail markets within the US and Caribbean.
Alicia also focuses her time with helping emerging designers and retail owners through a vast majority of marketing, branding methods to spice up different aspects of their collections or gaining new customers. "Building a Bankable Fashion Brand".  She sees global Fashion as a Business not a Runway. Her acumen for business and the support of amazing mentors has led her to build long lasting relationships within Public Relations, Distribution, Manufacturing and Brand Management. Alicia designs at least 2 collections per year and also leads La Sewing Café, a fashion design and sewing cafe for kids. Additionally FAVALA helps designers in their journey by teaching them the business facets of the industry. Her courses include Fashion Merchandising and Business Marketing.
The Favala brand aims to influence the world through Fashion by helping designers build their brand, allow fashion bloggers to influence and inspire through Blog City and La Sewing Café and motivate and inspire young children to run with their dreams.
Featured Works
Portfolio Extracts
Member of National Association of Professional Women.
Worked with brands such as Oscar De La Renta and Carolina Herrera
Consulted in fashion trends for Major Networks such as Univision, Pabanor Music Works, Revelation Films Studios, and Tradewind Films.
Curator of Blog City, a bloggers private network
Owner of La Sewing Café a Kids Fashion Design and Sewing School located in Delray Beach.
Author of the book; Climbing The Fence: A Journey of Traveling Words.
For more on Favala, and other great Talent do click PlentyTalent FB Page.