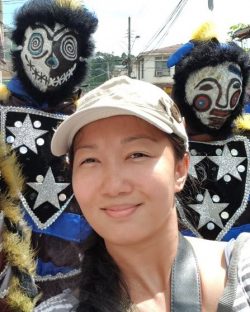 Marissa Yung Lee is a self-taught artist best known for her oil portraits of Traditional Mas performers. She draws inspiration from the meaningful connections and artistry of her subjects and from the continual challenges of the medium.
Starting out in watercolors, Marissa now works primarily in oil, with heavy concentration on value study, impressionistic colours and alla prima brush and knife work. In her portraits particularly, she strives toward the evocative, rather than the purely literal. This air of mystery, or moment out of time quality, is what leads her to describe her style as Contemporary Realism blended with Impressionism.
"The best part of painting for me is the people I meet. To form these wonderful connections, to tell someone's story is a privilege and a responsibility that I take very seriously."
In her personal life, Marissa has travelled as often as possible since she believes seeing the world makes her love of her homeland that much stronger.
Her works have been exhibited in the National Museum, The Art Society of Trinidad & Tobago, The Rotunda Gallery, Horizons Art Gallery, Coco Vivo Gallery in Charleston, South Carolina, and in private collections locally and internationally.
For more on Talent like Marissa Click here