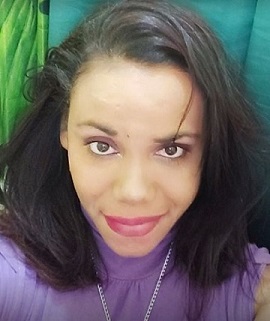 Candice Sobers is a conceptual artist, writer and graphic designer. Her work depicts a myriad of imagery on social issues and cultural influences from Trinidad's rich heritage. Her chosen technique is collage, utilizing found objects and a variety of paint mediums to tell a story on canvas. Her work is a rich dialogic fabric of visual essays which present her views on matters she is passionate about. She holds a BA in Visual Arts with first class honors, and in 2016 she successfully completed an MPhil in Cultural Studies at the University of the West Indies. Her work has been exhibited in joint exhibitions at the National Museum, Rainy days Ellersie Plaza, In2Art and at the Art Society of Trinidad and Tobago. She conducted a practice based research thesis on "Techniques of resourcefulness and Survival Among working class Trinidadians." This research was formulated into a series including paintings, drawings and a handbook of mixed methods entitled "Threads of Survival."
In order to give back to her community, Candice is involved in NGO projects which empower women, young children and marginalized groups. She is also a Life Skills Part-Time Lecturer. She facilitated Life Skills for the On the Job Training program with the National Training Agency for ten years. She facilitates adults and young adults in the training of essential skills such as goal setting, financial management, stress management and other employability skills.

"Art is an essential part of our everyday lives. The well making of what needs to be made is the essence of good art practice". Candice plans to continue to look for niches to inspire other field of study with creativity and avant-garde techniques which offer a different experience in learning using art as a conduit.