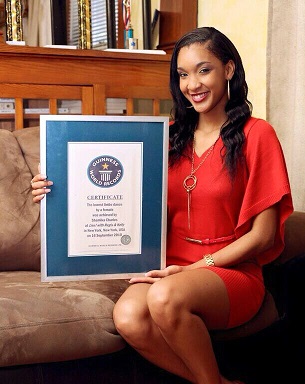 Shemika Charles, originally from the Islands of Trinidad and Tobago, is the Guinness World Record Holder for having limboed down to an unbelievable eight and a half inches (the height of a beer bottle). She recently expanded on this feat by becoming the first person to limbo under an SUV.
The limbo queen has been performing professionally since the age of 14 and it was her uncle that saw her potential to use her natural abilities to establish records. Limbo is a dangerous activity but as she professes her love for the activity allows her to revel in the looks on people's faces when she gets down low.
Shemika has already done the "Live with Regis and Kelly" TV show in 2010 and often appears on the NBA circuit showcasing her skills.
In order to limbo underneath a car, Charles has to practice six hours a day. She also meets with a chiropractor as much as once a week to make sure she remains physically conditioned to achieve her passion. Shemika continues to tour the US with her family and aspires to one day be able to land her incredible limbo talents into a headlining gig in Las Vegas. Shemika is currently based in Buffalo New York.
Featured Work
For more on Shemika and other great talents do LIKE and visit our PlentyTalent Facebook page.