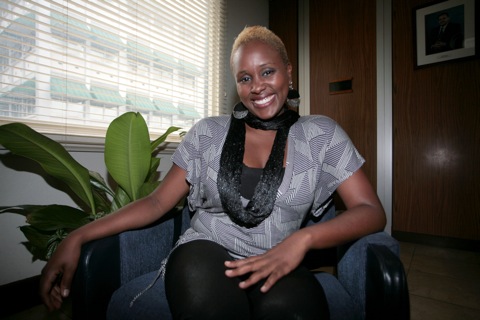 As Co-Founder and Executive Director of Brown Cotton Outreach, Louris serves as an Artist Educator, Mediator, Producer, Film Production Coordinator,Film Locations Manager, Playwright and Director.
She began her performance career in 1995 as member of the Trinidad Theatre Workshop's Theatre in Education Programme as an Actor Facilitator. On completion of her degree in Psychology at UWI, she applied for and was awarded the prestigious Allan Lee Hughes Fellowship in Community Outreach and Educational Theatre by the Arena Stage Theatre in Washington D.C. in 2000 She successfully completed this master's level programme the following year.
In 2001 she migrated to St. Lucia where she became a founding member of the Téyat Toutafé Theatre Company.In 2003 she returned toTrinidad and Tobago and co-founded The Brown Cotton Theatre Ensemble. She completed her Post
Graduate Diploma in Mediation Studies with distinction the following year 2004.
Louris has performed a variety of production functions for various Media and Production Houses, the Advertising Association and others. Louris has over 15 years of theatre and film performance experience and has been involved in several commercials, plays and movies as an actor, commercial voice, location co-ordinator, unit production manager and casting director.
She is the former Programme Manager of CNC3 Television and the former President of The National Drama Association.
Film Work
2013
Casting Director, Pan!: Maturity Productions
2012
Acting Coach, Amour Desamour: UWI
Fixer: Collaboration Culture: Zodiac Films, BBC
Location Manager: Home Again : Hungry Eyes Film and Television, Imagine Media
2011
Preproduction, Fire Inside, Sunset Films International
2010
Production Co-ordinator, No Soca, No Life, TriniGoodfellas Films
Production Manager, Between Friends, Sovereign City Productions