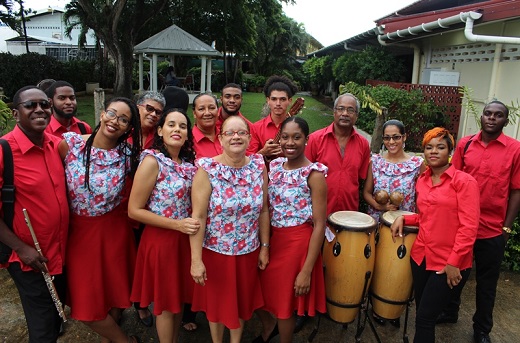 Los Buenos Parranderos was formed in 1978 as an offshoot of the Good Shepherd Anglican Church Choir (Tunapuna). As a traditional Parang group, using only acoustic instruments, the band was a regular feature on the Christmas programs on Trinidad and Tobago Television (TTT) hosted by Ms. Allison Hennessy, Mr. Holly Betaudier, Mr. Ian Ali and Ms. Germaine Mitchell. This relationship lasted from the 1980s into the 1990s. It is one of the first bands to be associated with Holly's Bandwagon and still actively supports the related programs. The band has always recognized the contributions of Mr. Holly Betaudier, Mr. José Hernández and the Guerrero family of Lopinot to the parang art form. It also pays tribute to notable lead singers such as Ms. Gloria Alcazar, Ms. Daisy Voisin and Mr. Henry Pereira for their excellent compositions. Mrs. Gail Ganpat is the leader of the band and as a Spanish teacher, she insists on the using the correct language in all the songs. Presently, its members are a mixture of youth and experience – the younger ones having graduated from the Junior/Schools Parang Circuit.
As a member of the National Parang Association of Trinidad and Tobago (NPATT) since 2000 the band won the National Parang Finals in 2005 and was runners-up in 2006. It also won the Lopinot Heritage Parang Festival for five consecutive years (2005-2009). In 2013, the band was crowned joint winners of the Success Laventille Lions Parang Fiesta and placed second in the following year. The band has produced two CDs on the Sanch Electronix Recording Label. The first in 1999, entitled GOLPE which was a tribute to Ms. Daisy Voisin. The second, produced in 2015, entitled İEPA! (Especialmente Para Amantes) or (Especially For Lovers) is a tribute to all lovers of music.
Los Buenos Parranderos had the honor of representing the country at an Aguinaldo Festival in Güiria, Venezuela in December, 2001 and in May 2016 the band participated in Cubadisco 2016, Cuba's premiere International Music Festival which was held in several venues in Havana. The band remains active throughout the year and is well accustomed to performing at wedding receptions, fund-raising events, family functions and other such related events.
The band continues to looks forward to public support through the sale of its CDs.
For more on great Caribbean Talent click PlentyTalent Facebook atop page.