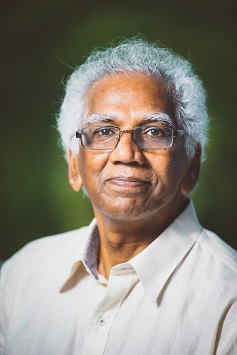 To write, one must be right – always! That is the personal aesthetic credo of Krishna Alexander Samaroo. Having retired from the teaching profession after 37 years in the public secondary school system, Krishna now devotes the time he always yearned for to his writing. He holds a BA and an MA from UWI. He taught chiefly English Literature. To date, Krishna has to his credit five(5) published works – his last two, a novel The Nowherians and a volume of verse The Public Orator, are both available on Amazon. Though considered by his contemporaries and his mentors more as a poet/playwright, Krishna insists that he prefers to see himself as a writer.
I write – period!
This was how he put it. For he is a prize-winning essayist as well as poet. He has copped awards for his writing in The New Voices – the journal cum magazine produced by the poet who discovered him, Anson Gonzalez. He has also written works for the stage. Some of his poems have been anthologised in national and international publications.
Krishna enjoys reading his works publicly, having done so for a number of years in the north and in the south in particular. For some time, too, he served as a judge for the Poetry category at competitions organised by the Secondary Schools Sanskritik Sangam as well as by SWAHA.
Writing is Reading; Writing is Crafting; Writing is a Vocation.
These are the tenets of writing Krishna lives by as he seeks to add to the library of works produced here in the Caribbean. He is simultaneously working on three books: another novel, a volume of verse and a personal history of the secondary school he taught at for 35 years.
Krishna was once Secretary of The Writers Union of Trinidad and Tobago. For more like Krishna Click here.