Stephanie Precious Kalloo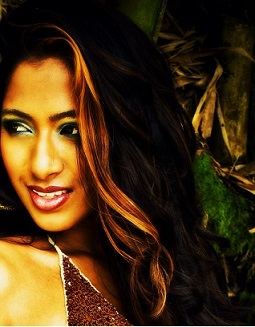 Bred in Diego Martin but adopted by Caroni , Stephenie Precious Kalloo alias "Stef Kalloo" has been singing since childhood and all throughout secondary school. At 17 years she was already singing in a pop rock band. She claims the endless sing- a- lot cassettes and music bought by her parents along with her "grandpa's" recording of her singing initiated the early love and passion. 
Growing up listening to all different genres allowed her to open her my mind and absorb from people like Whitney Houston, Michael Jackson, Mariah Carey, Dolores O'riordan (Cranberries) and Bob Marley. Other Caribbean acts that she admires include Kes, Bunji and Machel.
Stef has already performed at a lot of venues in Trinidad including clubs and hot spots, hotels for functions and many weddings. When she gets the opportunity she also does fundraising or charity events. She has worked with such individuals as C2W producer Mark Cyrus in St Vincent.
She sees her craft as a continuous pathway to self -improvement and is especially proud of her track ' a little closer' because "it sounds like nothing else out there and that's something she strives to always do".
In aiming to stand out and be unique she laughingly boasts of being able to "eat like 5 times a day and not put on any weight no matter how hard she tries !" She also claims to be a "mean" belly dancer who loves beans and rice.
Featured Work
Portfolio Abstracts
two of her tracks featured on the "Caribbean Hott Party Vol 4" album. "a little closer" produced by Precision Productions and "Wuk it up" by 1st Klase Productions.
Upcoming release planned "Take it up" intended for the mainstream.
You can follow Stef on twitter at Stef kalloo @stefferz1986
For more on Stef and other great talents like herself do click and LIKE PLENTYTALENT FACEBOOK PAGE