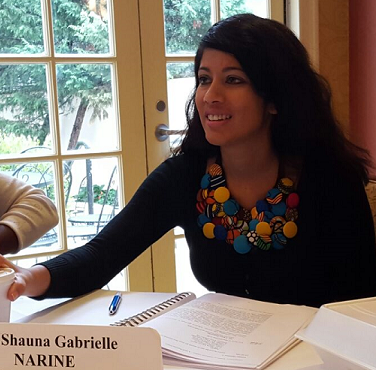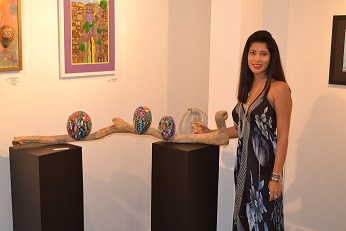 Shauna Gabrielle Narine is a Trinbagonian self-taught acrylic artist who was born and raised in San Fernando. Her works are quite versatile and are based on various subjects, all full of life and colour. She began painting while living in Europe pursuing her Masters degree in Marine Biology and was inspired greatly by Gaudi's work and Europe's unpolished architecture.
After her first trip to Barcelona, she tried painting using water colours and continued every Saturday and Sunday in Gulbenkian Park while her friend Lizzy practiced her juggling. She later switched to acrylic paint. Her trip to Thailand inspired her to use media such as calabash as a canvas since some of the street art there was founded on calabash and coconut shells.
She returned to Trinidad in 2010 and has since never stopped painting. She wishes the viewer to experience art as a form of magic with no mistakes, only strokes of paint on something that was once plain and transformed to shine. Shauna says that nothing is more relaxing than sitting with a coated paint –brush and a blank canvas or calabash before her. Her works has been on display at several exhibitions and most pieces are available for sale.
Do see more of her work by CLICKING THIS Plenty Art Link