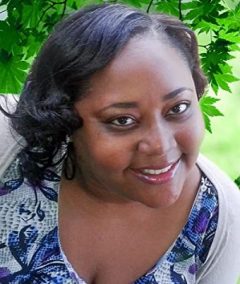 R.S.A. Garcia decided to be an author when she discovered that Louisa May Alcott had been published at the age of 8. Determined to waste no more time, she finished her first collection of stories at 10. She has not stopped writing since, and indulged herself in a deep love of all speculative fiction. As a speculative fiction writer who was 'born and grow' in Trinidad and Tobago she was inspired by a deep love of science fiction She has since published short fiction with Clarkesworld, Abyss and Apex and Truancy Magazine along with numerous other global magazines.  Her debut novel 'LEX TALIONIS', a science fiction mystery, received a starred review from Publishers Weekly and won the IPPY Silver Medal for Best Sci-Fi/Fantasy/Horror EBook 2015.
Her very first short story 'Lola' was published in the anthology 'Tales of the Serendip' in 2002. Her short story 'Douen Mother' was a quarter-finalist in the Writers of the Future Contest and was published by the online magazine, Abyss and Apex. Her short story 'The Bois' received an Honorable Mention in the Writers of the Future Contest and was published by Truancy Magazine in June 2017. It has since been reprinted several times in various international anthologies. She had been fortunate enough to be a panelist at the annual Bocus Lit Festival in Trinidad and Tobago, alongside her mentor, Nalo, and such Caribbean luminaries as Karen Lord and Tobias Buckell. She has also given talks at schools and libraries around Trinidad and Tobago. She is also a member of the Science Fiction and Fantasy Writers of America (SFWA).
Learn more about her work at rsagarcia.com.
Learn more about others like Garcia at Plenty Talent Face Book