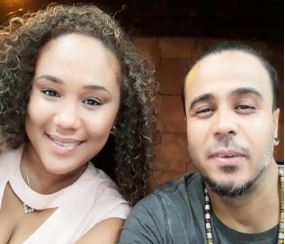 Billy & Naomi is a Trinidadian duo of entertainers made up of husband and wife Billy and Naomi Wong. The couple launched "Marriage & Music" in September of 2020. Due to the Corona Virus pandemic Mr. and Mrs. Wong decided to spread a little seasonal joy through their music. Naomi Mohammed first met Billy Wong when he came to her home to "house parang" with some members of Rio Suave in 2005, but it wasn't until September of the following year  when Naomi joined A La Rio Suave that she and Billy were formally introduced.
The two dated for eight years and got married in 2013. Naomi started her singing career with bands such as A La Rio Suave, La Bendicion All Stars, Los Alumnos De San Juan, Alma Caribeña and is a past member of the UTT Chorale. She then ventured into performing with bands such as Tropical, Pal Destino, Live Styles, Oscar B along with his band known as Vibes, while free lancing with Sharlene Flores and Flores de San Jose, Rebuscar and Los Tocadores. Her affiliation with Live Styles, the band, unlocked opportunities for Naomi to perform backup for Reggae artistes such as Million Voice, Isasha, Ziggy Ranking, Jah Melody, Mr. King, King David, Jah Z Blaze and many more.
Billy Wong's musical background started when he was a young boy "paranging" with his uncles. This peaked his interest in parang music and as good fortune would have it, he was then trained by the great Robert Monroe and got the opportunity to perform in many shows with the icon. Due to an unfortunate situation, Billy learnt to play percussion. However it made him even more marketable. Evolving into a freelancer, Billy performed with many groups: San Jose Serenaders, Rio Sauve, Los Alumnos De San Juan, La Bendicion and Los Alegres Sin Duda to name a few. He has also done recordings on many popular songs by famous artistes such as Baron, Kenny J, Tigress, Preacher, Leon Caldero and many more. To date, the couple continues to grow musically as a team and individually. They have also ventured into charity by conducting their annual Toy Drive and donating Easter hampers to families in need. For more great Talent like "Marriage and Music" do also click here.