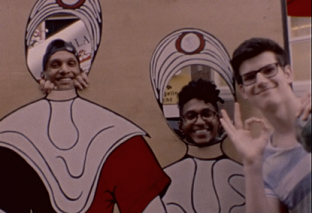 Christian Kalpee, the former student from Presentation College in Trinidad and Tobago, burst onto the music scene with his first single, "No One" which flew across streaming platforms and radio stations in Germany, Brazil, New Zealand, Australia, Brussels, Norway, Singapore, Taiwan and more. With "No One" still gaining traction with over 7 million views, he has already since released his second single, "What About Us" and more recently his infectious 3rd hit Colourful; both with Sony Music Entertainment Middle East. His music is likened to Tropical House with a tinge of Soca with influences from cadence, funk and soul and his style can in some cases be compared to Justin Bieber and Zayn.
Kalpee gained his early music experience representing his primary and secondary school at national music festivals where he excelled as a soloist in Classical pieces. He developed his talent with leading roles in his school's annual productions and kicked off his career as one of the founding members of one of Trinidad's multi-talented young band, "The Entourage". Kalpee is a fluid artist capable of penetrating various genres from RnB, Funk, Reggae and Soca and wooing fans with his broad vocal range. His second tune in particular "What about Us" was Filmed in and around England, Portugal and Amsterdam. It " speaks" to a road trip reflective of unity and reconnection and was captured using a vintage Super 8 camera, giving it a unique nostalgic feel, like a lucid memory of happy times together that you can never forget.
Information courtesy Thrive International.
For more on Talent like Kalpee do click and LIKE our Plenty Talent Facebook page